Bridal Books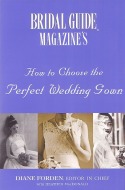 "BRIDAL GUIDE: How to Choose the Perfect Wedding Gown"
By Diane Forden
Do you want a book that shows you which wedding dress is right for you? Well, pick up a copy of Bridal Guide Magazines- How to Choose the Perfect Wedding Gown by Diane Forden. Take a glimpse at the behind-the-scenes work used to design the ideal dress. With captivating illustrations, this book will appeal to the sophisticated reader. If you are looking for the right wedding dress to impress, then don't forget to pick up a copy of Diane Forden's Bridal Guide Magazines- How to Choose the Perfect Gown.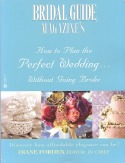 "BRIDAL GUIDE: How to Plan the Perfect Wedding Without Going Broke"
By Diane Forden
Planning your wedding? Don't want to break the bank? Bridal Guide Magazine's How to Plan the Perfect Wedding… Without Going Broke is here to assist you every step of the way. Diane Forden, editor in chief of Bridal Guide Magazine, gives tips, advice, and strategies that will help you get the most out of your budget without sacrificing any aspect of your wedding. Congratulations on your engagement! Now it's time to plan!

THIS BOOK IS CURRENTLY OUT OF STOCK
"BRIDAL GUIDE: New Etiquette for Today's Bride"
By Diane Forden
No matter what type of wedding you're planning-a casual affair on the beach with a few close friends or a lavish, black-tie event-etiquette is important! And with contemporary complications like interfaith ceremonies, blended families, late-life marriages and more, proper decorum isn't as straightforward as it used to be. Now, with questions culled from Bridal Guide readers themselves, this unique book offers expert, up-to-date answers on nuptial do's and don'ts, including: How should invitations read when the hosts are nontraditional parental units-divorced, remarried, or stepparents? How can brides and grooms pare down the guest list without severing family ties or risking valuable friendships? What's the most diplomatic way to discuss financial responsibilities with those involved?

This website is a secure site.
(C) 2011 LifeTime Media & LTM Books